Best Roof In The Neighborhood
I just had a new roof installed and added Dickson to my quote list on the recommendation of my neighbor who had their tear-off roof done with Dickson about 15 years earlier.
They were not the lowest quote but I was able to see when I met with Jim that they take the time to do things right. We took a short walk in my neighborhood to choose the roof color and all the options were shown from the start.
This year has been crazy for weather so Jim called me a day before installation to confirm the day works for me. The crew arrived at 7:00am and got to work right away.When the crew was done, they cleaned up everything around the house and made sure every nail was gone. That was so important to me because I have a dog and he runs free in my backyard.
Overall, they were very neat, professional and took pride in their work as if my house was their own. I also know they will answer the phone if I ever have a problem.
I would use them again and recommend them too.
Now I have the best-looking roof in the neighborhood!!!
Spectacular To Work With
Dickson did our windows and a repair to our roof as well. Hands down, from start to finish they were spectacular to work with! Everyone did a fantastic job and were very cleanly and thorough!
Very Knowledgable 
"Steve is very knowledgeable & professional. He educated me on what he was going to do and updated me thru the process."
Don P.
Wonderful
Working with Dickson has been wonderful. We received new windows and siding on the 2nd floor of our home and we have received nothing but compliments on the work. Jim (the project manager) constantly checked in on the job and was available to answer questions when needed. The crew was professional and hardworking. The price was incredibly reasonable. We plan to use them again for the second phase of our exterior remodeling.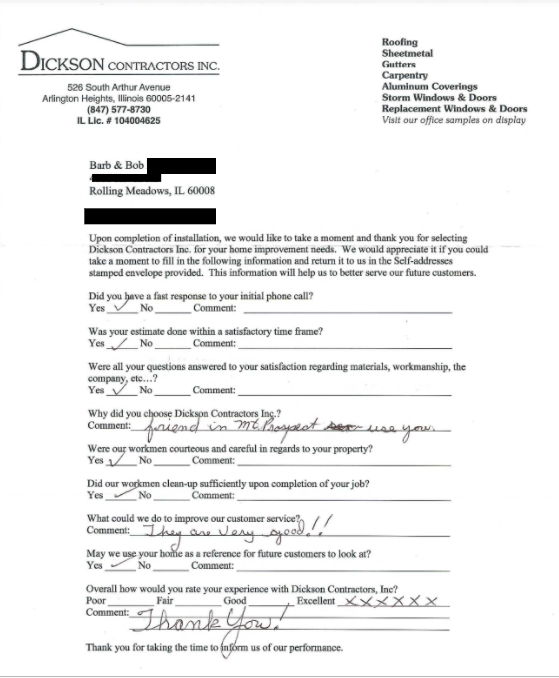 Great Job
I wanted to make sure you were aware of the project that Mark completed. First It was a rough idea by a grizzled old coot. And Mark made it happen just like I wanted, only maybe a little better.
Mark did a great job and I am very appreciative.
Bill P.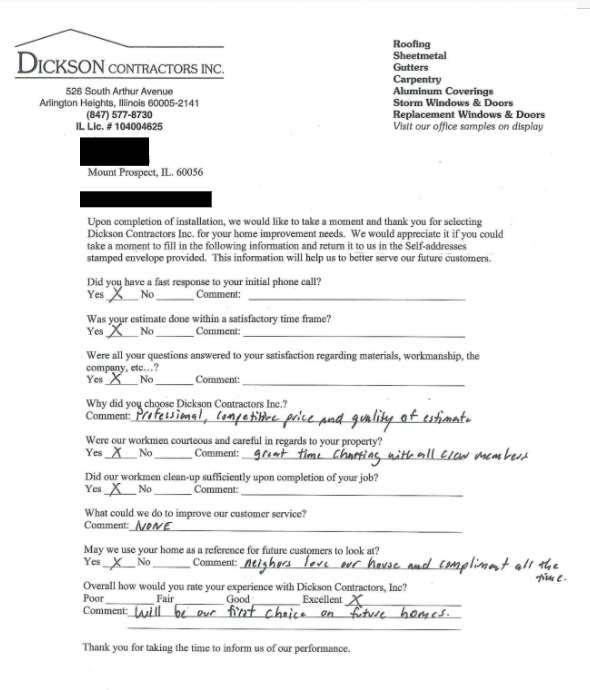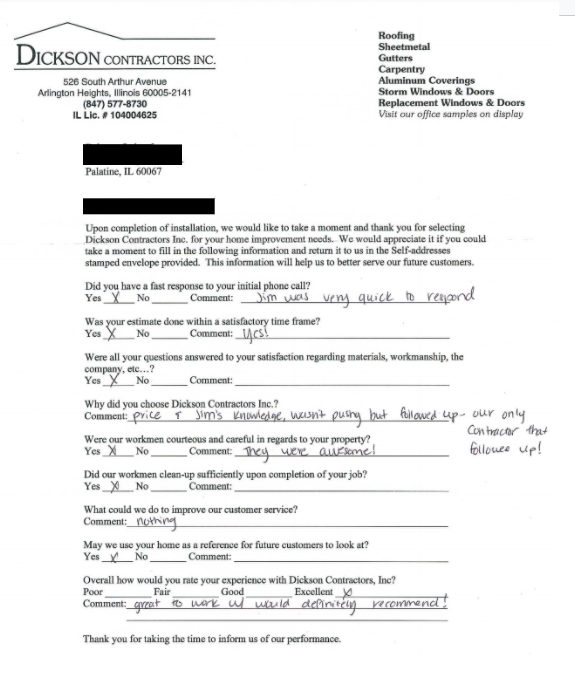 Additonal Reviews Available on the Following Sites
Address
526 S. Arthur Ave
Arlington Heights, Illinois