Dickson Contractors has recently completed the installation of new Mastic siding on this Gable on a home in Arlington Heights, Illinois. Our team was also able to install all new White Fascia  & Gutters. 
For homeowners looking for new siding on their Arlington Heights area home we recommend exploring the offerings from Ply Gem. For generations Mastic siding from Ply Gem has been the #1 choice among homeowners, builders and remodelers. Mastic premium siding is low-maintenance, solid and tough, and able to stand up to extreme weather. This vinyl siding requires little maintenance, and is an eco-friendly choice for your family. Best of all, you're covered with an industry leading V.I.P. limited lifetime warranty backed by Ply Gem. 
Please see photos below. To learn more about our siding or gutter installation service please call us today at: 847-577-8730. Be sure to view our other recent projects or our customer reviews.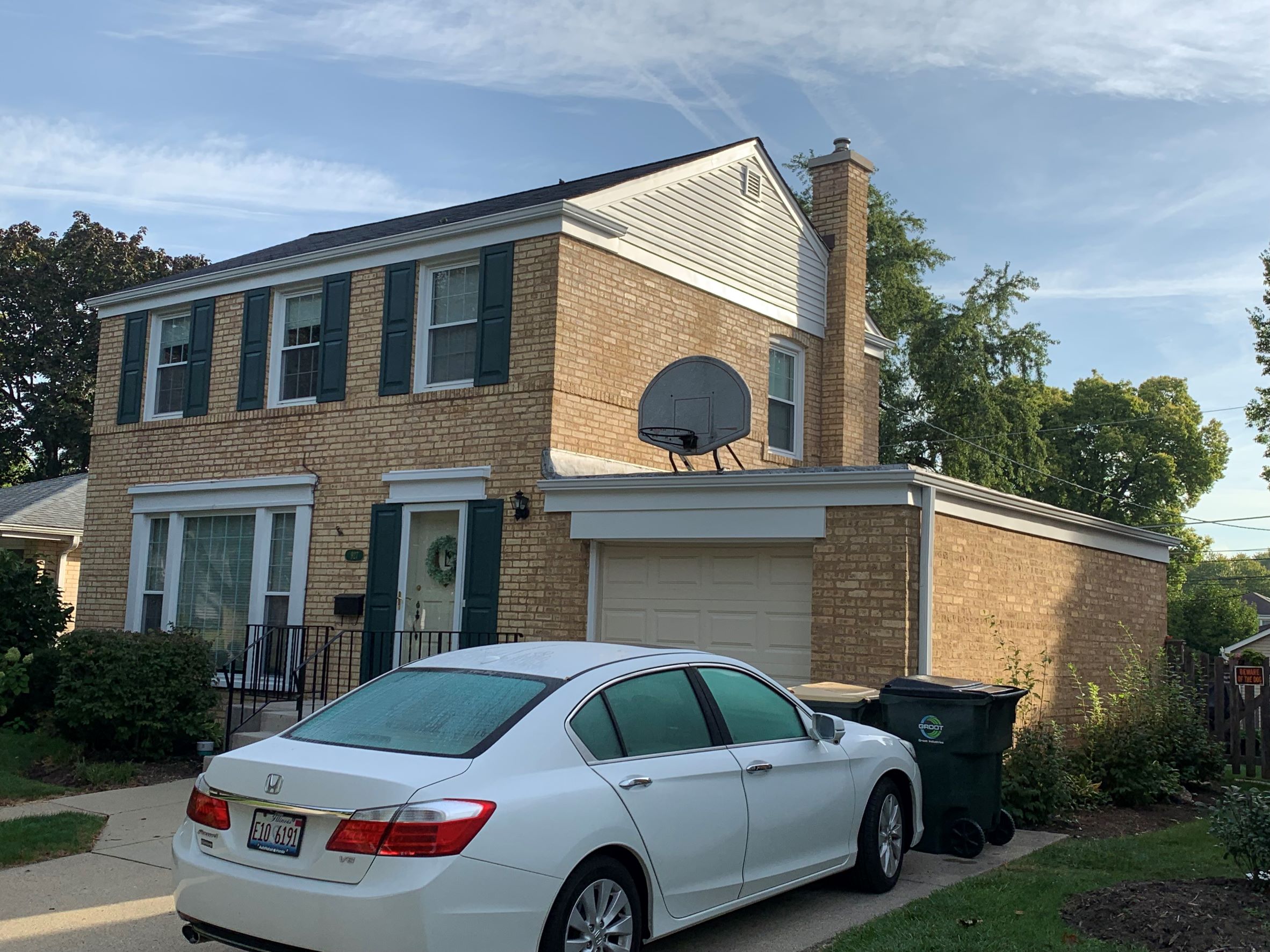 Siding Installation Service
If you are looking to have a siding installation done on your house in the Arlington Heights area, our contractors can help. Our team of experts work efficiently and professionally so that your new siding installation does not take long too do. We have many different siding options for you to choose from at Dickson Contractors. Our team will go through the siding options we recommend for your particular needs and answer any questions you may have. We are dedicated helping you find the best siding for your home that is durable and within your budget. Our goal is to make this process stress-free for all of our customers. All of our contractors are highly trained, experienced and certified. Call us to make sure your installation will be done right and add value to your home.
Signs Your Home Needs New Siding
Below are some of the most common reasons residents in Arlington Heights, Illinois contact us for a FREE siding inspection.
Energy Bills- If your siding or installation is old, drafty or needs major repairs, it might be time for a siding installation. New siding can help lower your bills in Arlington Heights because siding contractors can add more insulation and get rid of all the drafts. This will keep your home at a comfortable temperature and won't cause your furnace or air conditioner to work harder then they have to.
Gaps/Holes- Gaps and holes in your siding allow moisture to get in, causing lots of damages to wood.
Moisture- If you notice mold or moisture on your home, make sure to check the exterior too. Your siding could be causing the mold and moisture. Contact your local siding contractor in Arlington Heights to take a look at it and determine if you need new siding or just a few repairs.
Visual Appearance- If you are planning on moving in the future your siding is important to keep up with. If your home has new siding then a buyer will be more likely to buy your home, because it's less for them to do once they move in.
Cracks- Cracks can allow insects like termites, get in and cause a lot of problems. Cracks that are large enough can also let water get in as well.
Benefits of New Siding
Have you been looking for a local siding contractor you can trust that is local to the Arlington Heights area? Contact our team at Dickson Contractors today! We have many different options and styles. New siding will help spruce up your curb appeal and preserve your home's value. New siding can also benefit your home because it can:
Enhance curb appeal- Old, worn down siding can start to lose its color. If your siding starts to fade, it will start to loose its visual appearance. The older siding gets, the harder it is to clean too. At Dickson Contractors we have many different colors and styles to choose from that can transform the look of your home.
Repair Structural Damage- If your home has structural damage from mold or moisture new siding is a good idea. We can usually repair the structural damage after the old siding has been taken off.
Energy Efficiency- If you need new siding, it is also the perfect time to look through the energy efficient options. Some options will allow you to add more insulation to your home too. Energy efficient siding options can help you save money and there are some that are environmentally friendly!
Call Dickson Contractors Today: 847-577-8730
GAF CARE: Sponsorship which promotes Products Made in America
GAF has won the woman's choice award 9 out of the last 10 years.