Protect your family and belongings with a new roof installation. Feel confident in your new roof.
Serving the Northwest Suburbs since 1987
Since 1987
Flat Roof Installation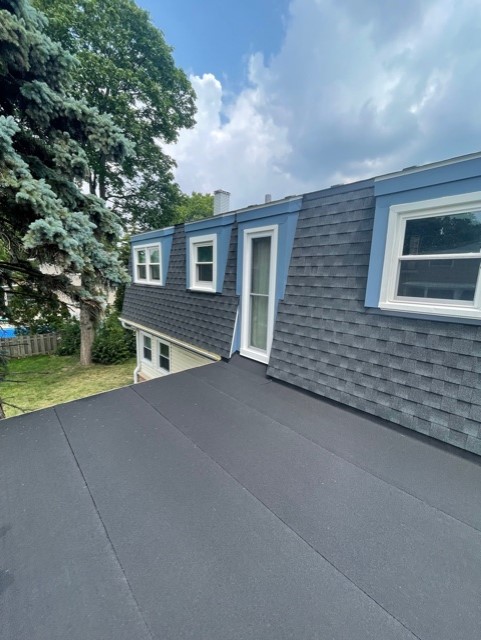 Flat Roof Contractors in Arlington Heights Illinois
Dickson Contractors has been a locally trusted roofing, siding, window, door and gutter service provider in Arlington Heights, Illinois for over 34 years. We bring our experience, passion, and knowledgeable expertise to every job we complete!  When you choose Dickson Contractors to work with, you are choosing:
Family Owned and Operated Business
Fast Reliable Service You Can Trust
5 Star Rating on Facebook
5 Star Rating on Google 
A+ Rating with BBB
5 Star Rating on Yelp
Dickson Contractors offers free estimates on all projects. We also offer discounts to first responders and military veterans. Choose the right roofing, siding, gutter, window and siding service your home deserves by calling us today:
Flat Roof Installations
Is your flat roof 8-12 years of age? We can provide you with a free roof inspection to assess whether we can increase the longevity of your existing roof by some minor repairs, maintenance or a seal coat application.
If you are in need of a full flat roof replacement, we have several products and techniques to increase proper drainage and eliminate standing water to give your flat roof the longevity it deserves.
Two Types:
-Modify Bitumen: 10 Year Product
-EPDM: 20 Year Product
---
Make your home more efficient by calling for a FREE in-home estimate to inspect your roof!
Roofing Number
104-004625

Additonal Reviews Available on the Following Sites
Address
526 S. Arthur Ave
Arlington Heights, Illinois