Since 1987
Door Service in Rosemont, IL.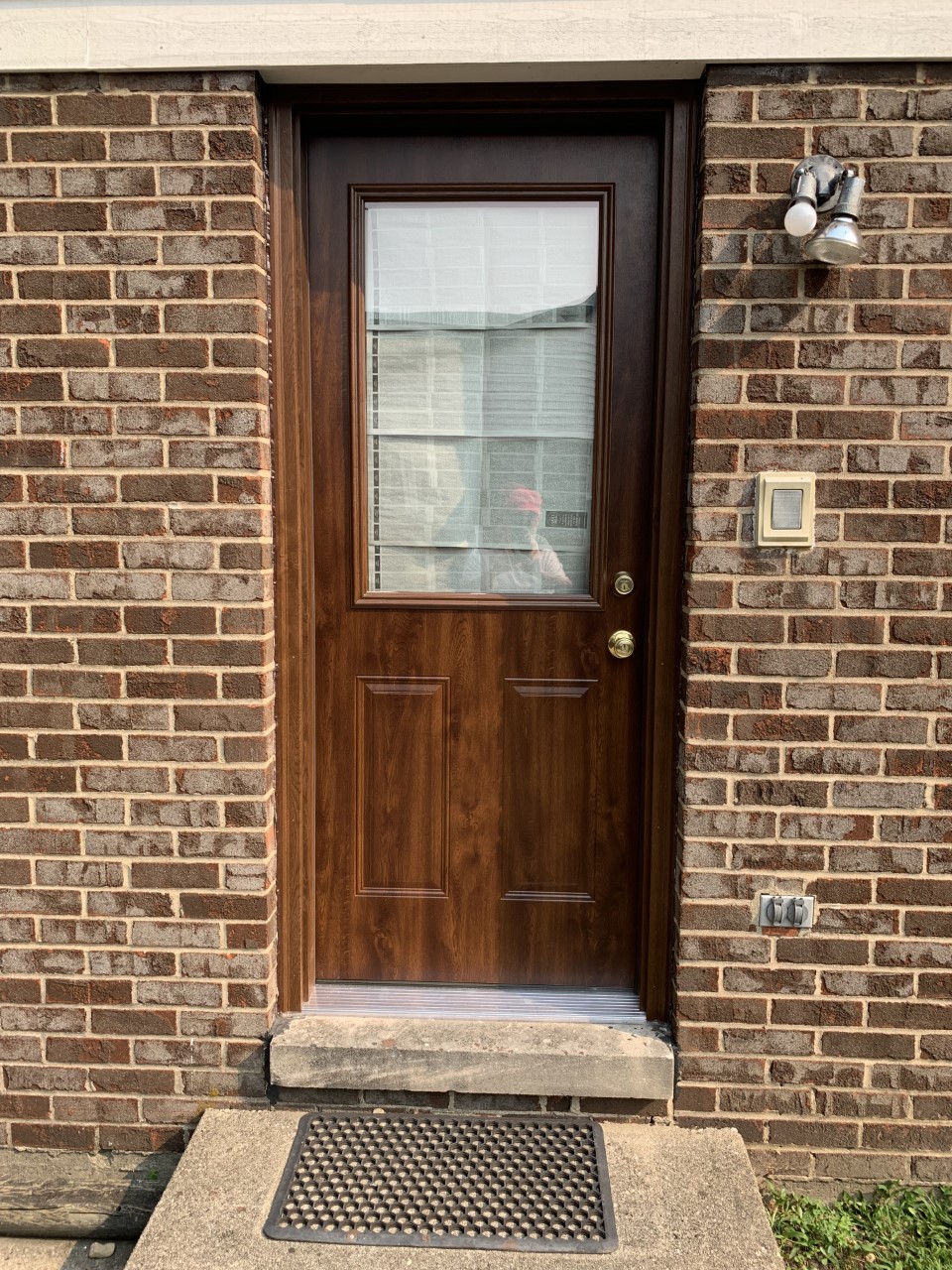 Local Door Contractors in Rosemont, Illinois
Dickson Contractors has been a locally trusted roofing, siding, window, door and gutter service provider in Rosemont, Illinois for over 34 years. We bring our experience, passion, and knowledgeable expertise to every job we complete!  When you choose Dickson Contractors to work with, you are choosing:
Family Owned and Operated Business
Fast Reliable Service You Can Trust
5 Star Rating on Facebook
5 Star Rating on Google 
A+ Rating with BBB
5 Star Rating on Yelp
Dickson Contractors offers free estimates on all projects. We also offer discounts to first responders and military veterans. Choose the right roofing, siding, gutter, window and siding service your home deserves by calling us today:
Type of Door Available for Installation in Rosemont Illinois
When it comes to choosing the right door for your home there a few things you should consider.  Your first option depends on what kind of door style you want.  After you narrow this choice down the material of the door is a lot easier to decide.  There are many different door styles; these are the most common ones you will find in homes in Rosemont.
Entry Doors: According to real estate agents, your front entry door can actually impact what you can sell your home for.  So if you have a new and updated entry door in Rosemont, you can command a better bottom dollar for your home then others in your neighborhood. Some additions you can add to your entry doors include leaded decorative glass and sidelights.

Sliding Patio:  These are the most common patio doors you will find in homes that are located in Rosemont.  These doors are on a track that slides from left to right or vice versa in order to exit onto your patio or backyard area.  These are often accompanied by a screen door as well.

Hinged Patio:  These doors are on a hinge that will swing outwards to your patio or backyard.  Typically they come with panels of glass as well.  This is a great modern update to the sliding patio door for your home.

Storm Doors:  Meant to protect your outside doors from the elements.  Since we know the temperature and weather fluctuations in Rosemont can vary in the fall and spring, storm doors are a great way in order to protect your outside door from those changes.
Style of Doors Available for Installation in Rosemont
Once you have decided where your door is going to be, and what type of door you are looking for you can narrow down the style of door that you want.  Door style depends on functionality and material so you can make the best choice for your home:
Flush:  Used inside the home for bedrooms and bathrooms, these doors are typically solid doors with no special characterization or decoration.  They are just great separate your areas in the house and can be stained or painted any style you want.
Panels:  You can always make a door look more modern or give it a little something extra by adding panels to the door.  There are three common configurations for panel doors: 4, 6, or 8.
French:  Also known as casement doors, these are typically found inside the house or used as patio doors.  French doors are typically comprised of two doors on hinges so you can open both doors at the same time.  These also can upgrade your home and is a great option for separating two rooms in your home.
Dutch:  Dutch doors are divided horizontally so that you can open the top half or the bottom half without opening the entire door. These types of doors are less common in Rosemont but can give your home a simple charm that's unique on your block.
Steel Doors:  These doors are sturdy and have a great advantage because they are so low maintenance.  Most metal doors are truly affordable and provide a great seal from the weather outside.  One of the other advantages of metal doors is they won't wear or get damaged as other materials from the weather outside.
Wood Doors:  These doors are widely used, especially for entry doors and interior doors.  One of the great advantages of using wood as a material for your door is that there are so many custom options available on how it looks and the different style it can be crafted to be used.
Fiberglass Doors:  Commonly found in entryways, fiberglass doors give you the same benefit of steel doors, they are just not as tough.  One of the other advantage to fiberglass doors is that they can be made to have different patterns, and grains on them so they can mimic the look of a wood door.
If you're not sure which door suits your needs best, allow us to come in and help you decide!  Dickson Contractors also has a showroom located in Rosemont that can help you with deciding what the best door is for your home! Be sure to check out our customer reviews

Customer Reviews Available on the Following Sites
Address
526 S. Arthur Ave
Arlington Heights, Illinois